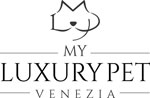 About Us
Fifty srl working exclusively in ecommerce since 2009, with most online stores.
Customer First
If you are looking for a reliable eShop, really close to the final consumer, who can climb over the barrier of purchase online, learning to know you and pamper you thanks to a careful, competent, courteous and present Customer Service - then you will love us!
The customer on Fifty srl comes really first - we think of you from the moment we select products, that we are going to offer you in our online store, to the final act of your choice, following you step by step and advising you whenever you need it. Whenever you want, we will be there before, during and after your purchase!
Where is Located MyLuxurypet.com?
The legal head office is in Italy, in Venice, San Marco 5728.
The operations office is located in via Felisati 70 30171 Venezia Mestre
You can reach us six days a week by email to Customer Service or from Monday to Friday by phone at +390413121531
Thank you!
Francesco
CEO

Sara Product Manager